Electric bikes are similar to regular bikes in how you ride them, but they use an electric motor to add some more power as you pedal.
Three classes of e-bikes exist, and their class determines their top speed and whether or not you can power the bike with only a throttle instead of pedaling.
You can choose from multiple styles of electric bikes depending on your needs, from road bikes to mountain bikes.
If you're new to electric mobility, you might be considering taking the plunge and trying an e-bike. Great! So what is an electric bike, exactly? How does it work? How long will the battery last? These are all great questions, and we'll tackle them here in this simple guide to e-bikes.
DYU D3F 14 Inch Mini Bike Folding Electric E-Bike
What Is an Electric Bike?
An electric bike, or e-bike, resembles a conventional bicycle, but it comes equipped with a battery and a small electric motor to offer support to you as a rider.
When you pedal on a pedal-assist e-bike, the motor kicks in and provides a boost, making pedaling easier. The motor's power output is regulated based on the intensity of your pedaling and what level of pedal assist you've selected. The higher level of pedal assist, the more juice the motor will pump out to get you moving faster.
Some types of e-bikes also have a throttle button that can activate the motor without you pedaling at all.
E-bikes can offer you an efficient way to tackle hills or other challenging terrain while still needing you to put in some of the work of pushing those pedals.
Fiido D11 E-Bike
How Does an Electric Bike Work?
The e-bike will have a motor that's usually placed in one of two spots: centrally on the bike (known as a mid-drive motor) or on the front or rear hub. The motor gets its power from the battery, which can be mounted on the outside of the frame or hidden within it.
(Some batteries can be removed for charging, while others need to be charged while still on the bike. Just make sure you have a power socket nearby if you're in the latter camp.)
When you hop on an e-bike and start pedaling, a torque sensor kicks into action. It measures how much effort you're putting in and matches it to the motor's power output. The idea is not to let the motor take over completely, but rather to provide consistent power delivery that won't send you flying forward.
To control the motor's assistance, you'll find a controller on the handlebar or integrated within the frame. It lets you decide how much help you want and keeps an eye on the battery level.
When it comes to regulating the motor's power, most e-bikes offer three to five levels of assistance. These levels can give you anything from a gentle push to a whole lot of power for conquering steep climbs. And if you ever want to rely solely on your own pedal power, you can switch the motor off completely and ride just like you would on a regular bike.
Now, there are three major types of e-bikes that you'll find here in the U.S. Here's a quick breakdown on the three classes of e-bike:
| | | | |
| --- | --- | --- | --- |
| | Class 1 | Class 2 | Class 3 |
| Pedal Assist | Yes | Yes | Yes |
| Throttle | No | Yes | No |
| Max Assisted Speed | 20 mph | 20 mph | 28 mph |
Let's explain these a little bit more:
Class 1: On a Class 1 e-bike, the motor kicks in only when you're pedaling. The pedal assist stops giving you a boost after 20 mph – after that, it's all you providing that speed.
Class 2: These e-bikes also have a pedal-assist mode up to 20 mph. But as a bonus, they also offer a throttle-powered mode that doesn't require any pedaling.
Class 3: Just like with a Class 1 e-bike, the motor kicks in only when you're actively pedaling. But this one has a higher threshold – it stops helping at 28 mph.
Heybike Tyson E-Bike
How Do You Ride an Electric Bike?
Remember that e-bikes are designed to feel a lot like regular bicycles. They use the same base parts, and you control your speed with your feet and the gear you've selected. The electric component is there to give you an extra boost, so you get the joy of cycling with a supercharged experience.
Speaking of supercharged riding, depending on which class of e-bike you have, you can choose from multiple modes to help you get where you need to. You'll be able to easily select which mode you're in via the controller on your handlebars:
Pedal Only
Just pedal away like you would on a regular bike. There's no extra assistance provided by the motor. You can switch gears depending on what effort you want to put out all on your own, like a normal bike.
Pedal Assist
This mode combines your pedaling power with a gentle electric boost. Once you turn it on, the motor kicks in to make cycling effortless and help you tackle hills with ease. You can switch gears as needed to adapt to different terrains.
This is also where you can select what level of pedal assist you want. You can choose from a light bit of extra boost to enough power to easily get you up to 20-28 mph speeds.
Electric Only
You'll only have this option if you have a Class 2 e-bike. You can twist the throttle or push the throttle button with your thumb, and the motor will propel you forward without any pedaling at all. It's like riding a small, zippy motorbike – that's still limited to about 20 mph, though.
Walk Assist
Some e-bikes also offer a walk-assist mode, to make it easier to push along when you're off the bike.
Because of the extra weight from the motor and the battery, e-bikes tend to be a bit heavier than standard road bikes. This might mean that getting moving again from a full stop might take a little more effort (or your chosen level of pedal assist), and that slowing down might take a bit more time. This is why so many e-bikes come with disc brakes – you get better braking control from discs.
What Range Will an E-Bike Have?
The range on your e-bike motor depends on the battery it has. E-bikes can come equipped with batteries that can take you anywhere from 20 miles to over 100 miles on a single charge. Of course, the actual distance you'll be able to cover depends on factors like the level of pedal assist you're using and the type of terrain you're riding on.
When it comes to keeping an eye on your battery life, most e-bikes do come with a battery-level indicator so you can see how much juice you have left. Some advanced systems even provide estimated ranges as you ride so you can plan out your trip more effectively.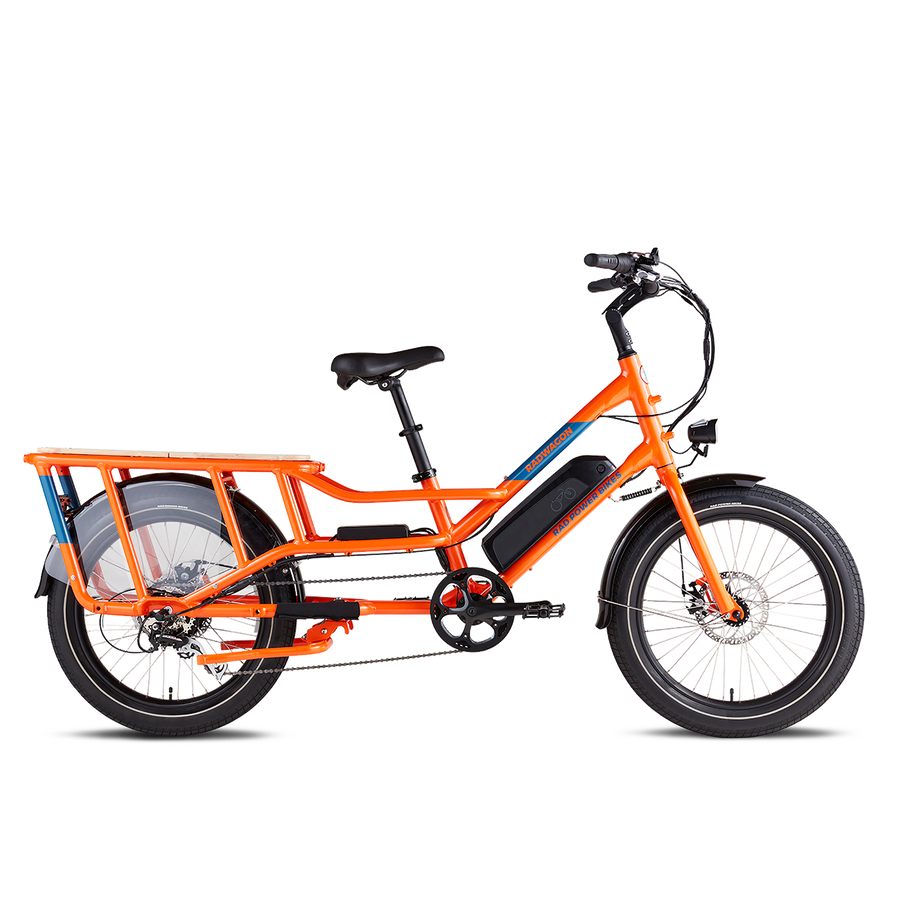 If you worry about conserving your battery power, you have options. You can lower the level of pedal assist during your ride, which consumes less battery power and can give you more overall miles.
Obviously you'll need to recharge your e-bike to get it back up to full battery. Charging times will vary depending on the model, charger, and battery capacity. It can take anywhere from a quick three hours to up to nine hours or more. Be sure to plan accordingly and give your e-bike time to charge up.
Magicycle E-Bikes
What Types of E-Bikes Are There?
Just like regular bikes, electric bikes come in various types, all designed for specific riding purposes.
Hybrid e-bikes: Hybrids are going to be a pretty common type you'll see. They're versatile and suitable for commuting and leisurely rides.
Electric road bikes: These are built for speed and efficiency, with lightweight frames and drop handlebars to give you better handling and hill-climbing ability.
Electric mountain bikes (eMTBs): These bikes excel in off-road terrain, equipped with powerful motors and high torque for conquering challenging climbs and navigating obstacles.
Electric gravel bikes: Gravel bikes offer versatility for both off-road adventures and road riding, with wider tires so you don't slip on gritty terrain.
Folding e-bikes: Compact and portable, folding e-bikes are designed for easy storage and commuting convenience.
Cargo e-bikes: These ones are tailored for carrying heavy loads. They'll come with additional baskets or rear racks to help you carry more around.
Do You Need a License to Ride an E-Bike?
Federal law treats electric bicycles just like regular bikes. So no, you don't need a special license, registration, or insurance to ride an e-bike.
But we do highly recommend that you get a helmet rated for e-bikes. While your state may not require bike helmets, e-bikes go at much faster speeds than your typical bicycle. Protect yourself with an e-bike helmet that is built to handle higher potential crash speeds.
Where Can You Ride an E-Bike?
Laws differ from state to state – and even city to city – on where you can ride bicycles, let alone e-bikes. Also, the class of e-bike you have may determine where you can legally ride.
Always check your local laws, and bookmark this overview of laws and policies from advocacy group PeopleForBikes.
Can an E-Bike Replace My Car?
There's an e-bike for everything, honestly. Are you looking for something to take you on your commute to work? Try a hybrid e-bike. Need something to help you run errands around town? Perhaps a cargo e-bike might work for your needs.
According to the Bureau of Transportation Statistics, more than half of all trips in 2021 were less than 3 miles, and 79% of trips were 10 miles or shorter. That would be an easy distance to cover on an e-bike versus a car, especially considering the cost of gas.
While an e-bike may not completely replace your car, depending on your needs and where you live, it can definitely give you the opportunity to use your car less.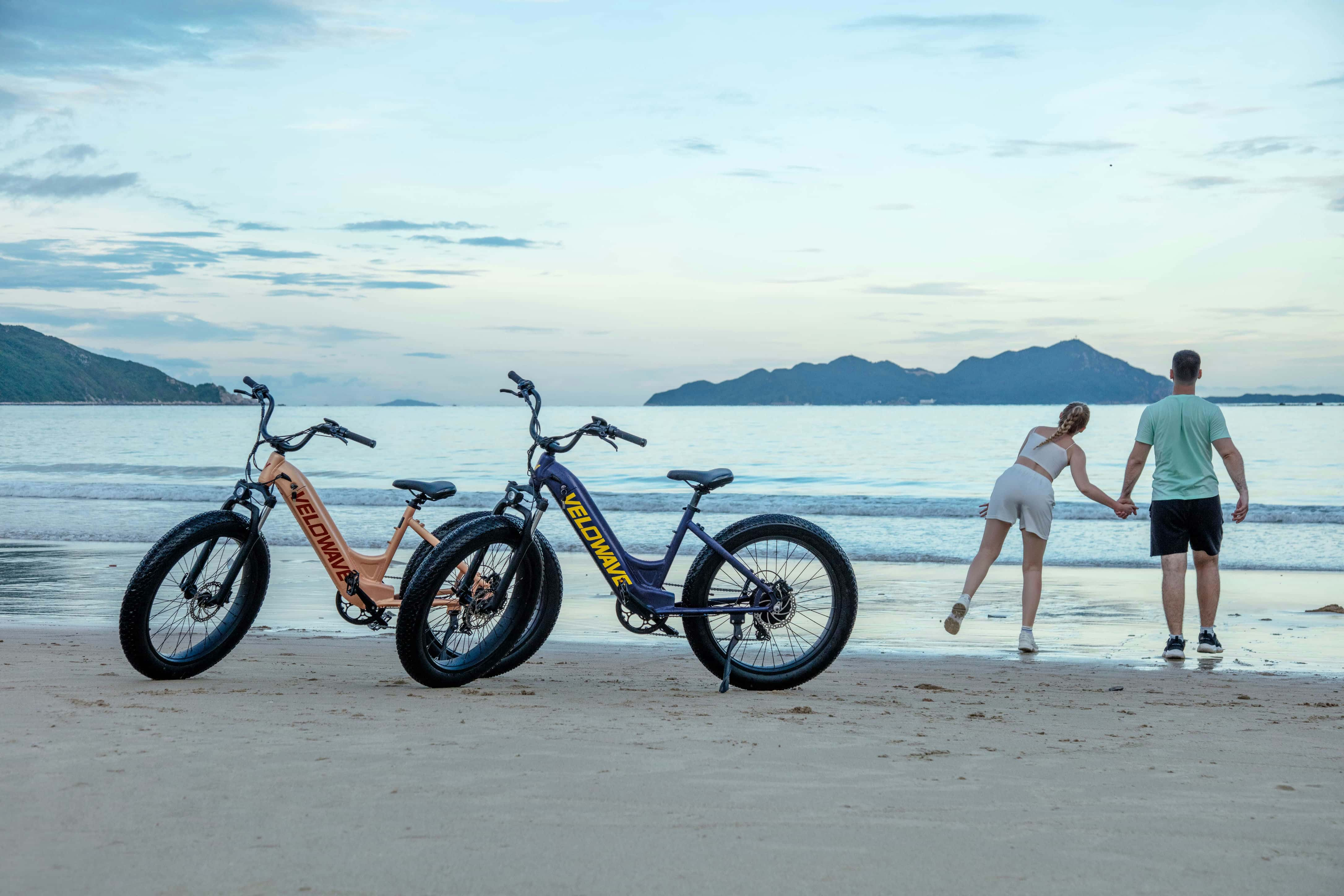 Veloware Rover Step-Thru Electric Bikes
Try an E-Bike and Change Your Life
Whether you try out a Class 2 e-bike for the throttle or want a Class 1 e-bike for the straightforward pedal assist, your first e-bike will open your eyes to a whole new world of transportation. Join the electrified future and get out there. You won't regret it.

FEATURE IMAGE: VELOWARE
FTC: We use income-earning auto affiliate links. Learn more.