The Senada VIPER Softail Electric Mountain Bike has a 1000W motor and a 48V 17.5 amp-hour battery, with a range of up to 65 miles per charge.
It features top-quality components like 4.0″ fat tires, 160mm disc brakes, and a Shimano 21-speed gear shift system for a safe and reliable ride.
Senada offers excellent customer support and a 2-year warranty on frame and parts, along with an online community for riders to connect and share experiences.
Introducing the Senada VIPER Softail Electric Mountain Bike, the ultimate ride for outdoor enthusiasts. Priced at just $1,459.00, this electric bike is a steal for the features it offers. But don't let the affordable price fool you; the VIPER is packed with power, durability, and versatility to conquer any terrain.
Unleash Your Inner Adventurer
The VIPER's 1000W motor is a force to be reckoned with. Its immense power, combined with the long-lasting 48V 17.5 amp-hour battery, ensures you can tackle even the toughest hills and enjoy rides up to 65 miles on a single charge. That means you can explore new trails, conquer mountains, and push your limits without breaking a sweat.
Smooth and Stable
Thanks to its rear spring suspension, the VIPER absorbs the impact of rough road surfaces and minimizes vibrations caused by uneven terrain. Whether you're cruising on sand, snow, or bumpy mountain trails, this bike provides a smooth and stable ride, allowing you to enjoy the journey to the fullest.
Quality Components for a Reliable Ride
At Senada, they believe in striking the perfect balance between affordability and quality. The VIPER features top-notch components that ensure a safe and enjoyable riding experience:
MOUNTAIN BIKE FAT TIRES: The VIPER comes equipped with 4.0″ wide comfort fat tires, providing superior grip and traction on rugged roads. No matter how troublesome the terrain, these tires guarantee a safe and smooth ride.
MECHANICAL DISC BRAKES: With 160mm mechanical disc brakes on both the front and rear wheels, you can trust that your e-bike will stop swiftly and smoothly when needed, ensuring your safety at all times.
ALUMINUM CRANKSET: The durable Prowheel aluminum crankset and crankset guard protect the chain ring and ensure the chain stays in place, even on rough terrain.
SHIMANO 21 SPEED GEAR SHIFT SYSTEM: The Shimano 21-speed freewheel allows you to effortlessly shift gears for uphill climbs or high-speed descents. Combined with the pedal-assist system, you have complete control over your speed and can tailor it to match your journey.
Designed for Your Comfort
Senada understands that comfort is key when it comes to long rides. That's why the VIPER is designed with your comfort in mind:
MOUNTAIN BIKE SADDLE SEAT: Senada's ergonomically designed saddle provides a comfortable riding experience and relieves pressure, allowing you to enjoy your adventures without discomfort.
HALF TWIST THROTTLE: Switching between pedal-assist and full throttle is a breeze with the half-twist throttle, giving you a comfortable grip and seamless control over your ride.
REAR RACK AND FENDERS: The upgraded rear rack is perfect for carrying your essentials, with a weight capacity of 65 lbs. Full-coverage fenders protect you from mud splashes, keeping you clean and dry.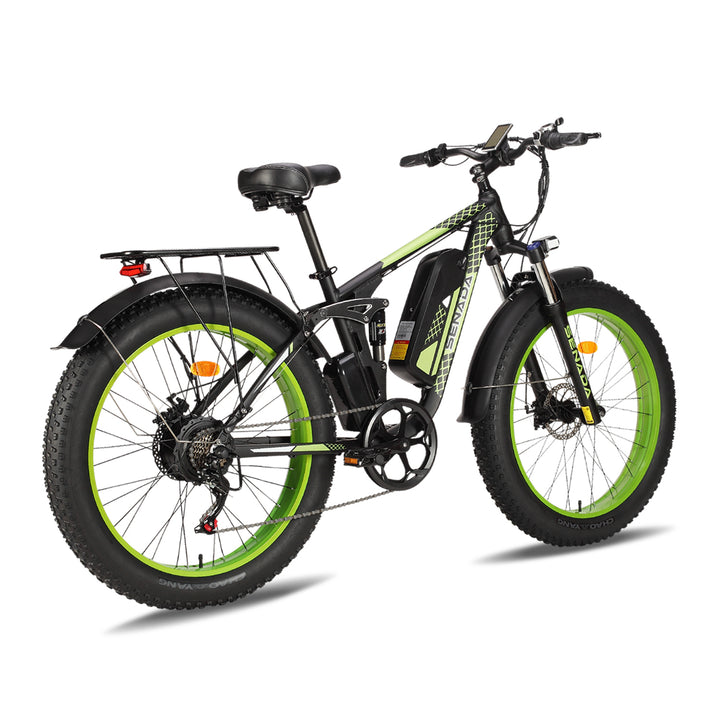 Easy to Assemble
No need to worry about complicated assembly processes. The VIPER comes 90% pre-assembled, allowing you to hit the road in 40 minutes or less. Just unbox, mount the front wheel, attach the pedals, tighten a few bolts, and you're ready to start on your adventures.
Senada's Got Your Back:
When you choose Senada, you're not just getting a top-notch product. You're also gaining access to exceptional customer support and a vibrant community of fellow Senada owners:
2 YEARS WARRANTY: They stand behind our products with a 2-year warranty on the frame and parts, and a 1-year warranty on the battery. Rest easy knowing that we have you covered.
CUSTOMER SUPPORT: They offer multiple channels for you to reach out to them – call, text, message, or ticket system. Their dedicated team is there to assist you whenever you need it.
COMMUNITY: Join the Senada Owners community online and connect with fellow riders. Share your experiences, ask questions, and get valuable insights from others who are passionate about the Senada brand.
Start Your Next Adventure Today!
With the Senada Bikes VIPER Softail Electric Mountain Bike, the possibilities are endless. Conquer any terrain, explore new horizons, and embrace the excitement of outdoor adventures. Don't miss out on this incredible ride that combines power, durability, and comfort – all at an affordable price.
Get your VIPER today for $1,459.00 and experience the freedom of riding like never before. Order now and have your bike shipped within 3 business days. Choose from two stylish color options: Black Red or Black Green. Your new adventure awaits!

IMAGES: SENADA
FTC: We use income-earning auto affiliate links. Learn more.