2024 Land Cruiser: Blend of heritage and modernity.
Exceptional off-road capabilities with advanced tech.
Hybrid power for efficiency and power.
The 2024 Toyota Land Cruiser is making a triumphant comeback to North America, staying true to its rugged origin. It has a rich history, evolving from legendary two-door models like the 40 Series to the capable yet fully loaded 200 Series. Now, Land Cruiser is returning as a high-quality off-roader at a more accessible price point, ready to take a wider range of customers on numerous backcountry adventures across the globe. It's being built in Toyota Motor Corporation's Tahara and Hino plants in Japan and is set to arrive in the U.S. in the spring of 2024. So, you won't have to wait too long to get your hands on one of these amazing SUVs. And remember, with a starting price in the mid-$50,000 range, it's a steal for what you're getting.
New Toyota Land Cruiser 2024 Specs
The 2024 Toyota Land Cruiser is a real beast when it comes to innovation and performance. It comes in three trims: Land Cruiser 1958, Land Cruiser, and the super-exclusive Land Cruiser First Edition. Each one has a touch of nostalgia with classic design elements like those round LED headlights and the iconic Toyota heritage grille. They've also made some upgrades too! With a sleeker silhouette and better positioning of certain parts, this Land Cruiser is not just a looker; it's a doer. And the First Edition, well, it's like the VIP section of Land Cruisers, with round heritage LED headlights, roof racks, rock rails, and an interior design that's off the charts.
ADVERTISEMENT
2024 Toyota Land Cruiser Price
Now, let's talk price. We know you want to know how much it'll cost to roll in style with the 2024 Land Cruiser. Well, get this: the manufacturer's suggested retail pricing (MSRP) will start in the mid-$50,000 range. That's pretty darn good for a vehicle that offers so much. So, you get to ride in style without breaking the bank.
Off-Road Capabilities
If you're the type who loves off-road adventures, this Land Cruiser is your new best friend. It's built tough to handle all sorts of terrains. Imagine having Multi-Terrain Select and Crawl Control at your fingertips, giving you precise control over wheel spin on any surface. Plus, there's an electronic locking rear differential that makes sure power goes evenly to the rear wheels, keeping things stable. The Land Cruiser First Edition? Well, it's like the Land Cruiser with a superhero suit, complete with rock rails and steel skid plates. And fog lamps come standard on the 1958 and regular Land Cruiser models, so you can see even when Mother Nature isn't playing nice.
Fuel Efficiency
Now, let's talk about something we all care about these days: saving fuel and helping the planet. The 2024 Land Cruiser is part of Toyota's fleet of electric vehicles. It features a hybrid engine that's kind to both your wallet and the environment. This hybrid SUV setup combines a turbocharged 2.4-liter four-cylinder engine with a 48-hp electric component. The result? A powerful 326 horsepower under the hood and 465 lb. ft. of torque. So, you can say goodbye to those frequent gas station stops while still enjoying the Land Cruiser's legendary power.
ADVERTISEMENT
Interior Design in the 2024 Land Cruiser
Now, let's step inside. Whether you're a weekend warrior or a city driver, the 2024 Land Cruiser's got your back. It can warm up your steering wheel on those chilly mornings, and it even has a rear console fridge for your drinks on those long road trips. And with wireless chargers and plenty of charging ports, you and your crew can keep all your gadgets juiced up.
Safety Features of the 2024 Land Cruiser
Last but not least, let's talk safety. The 2024 Land Cruiser has your safety covered with some fancy tech. It's got the Toyota Safety Sense 3.0, which includes cool stuff like the Pre-Collision System with Pedestrian Detection, Lane Departure Alert, and Dynamic Radar Cruise Control. Whether you're on rocky trails or cruising on the highway, these features keep you safe and sound.
Warranties and Additional Services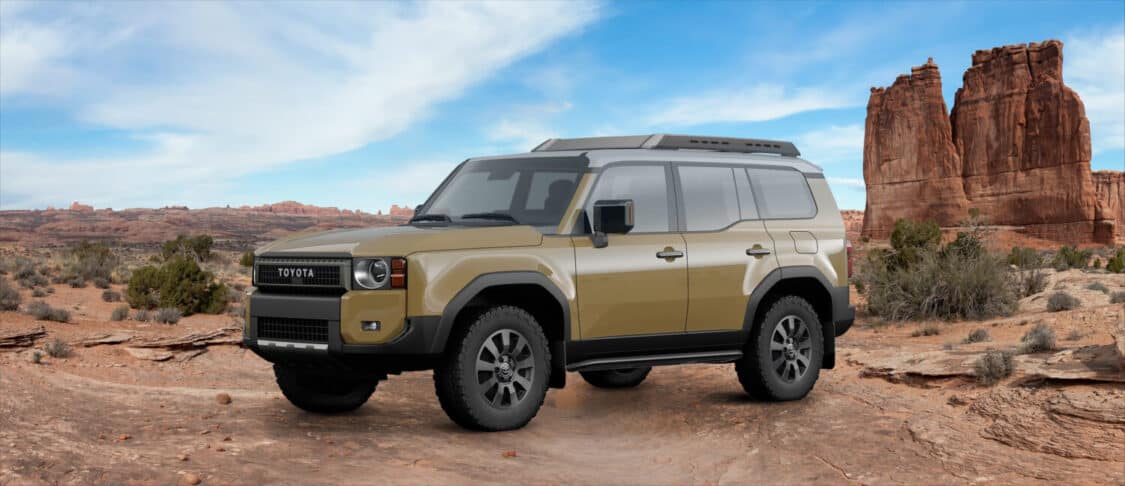 When you purchase the 2024 Land Cruiser, you'll also benefit from Toyota's comprehensive warranty coverage. This includes a 36-month/36,000-mile basic new-vehicle warranty that covers all components except normal wear and maintenance items. There are additional 60-month warranties for the powertrain (60,000 miles) and against corrosion perforation (60 months with no mileage limitation). And if you're worried about hybrid-related components, fear not. They are covered for 8 years/100,000 miles from the original date of first use when sold as new. The hybrid battery enjoys a generous 10-year/150,000-mile coverage, whichever comes first, and it's even transferable across ownership. Plus, the 2024 Land Cruiser comes with ToyotaCare, a plan covering normal factory-scheduled maintenance for two years or 25,000 miles, whichever comes first. You also get two years of unlimited mileage of Roadside Assistance, so you're always covered.
The 2024 Toyota Land Cruiser stands as a true SUV icon, combining timeless appeal with contemporary sophistication. Its competitive pricing sets it apart, making it an attractive choice compared to rivals like the Ford Bronco, Jeep Wrangler, and Land Rover Defender. So, prepare for your next adventure, as the 2024 Toyota Land Cruiser is set to redefine the legendary SUV experience!
2024 TOYOTA LAND CRUISE IMAGE GALLERY

IMAGES: TOYOTA
FTC: We use income-earning auto affiliate links. Learn more.