Are you looking for the best lightweight electric bike for you? Electric bicycles are one of the fastest growing segments of micromobility, and of EVs in general. Some complain that e-bikes are heavy, and of course the added 10-15 lbs of battery, motor and other electronic parts makes that hard to get around. For some, weight doesn't matter as much, if you generally keep it in a ground-level garage or home.
For concerns on lifting an e-bike on to a rack, there are ramp options like the Küat NV 2.0 Bike Ramp (Optional accessory made specifically for the NV 2.0 rack) or the Hollywood Racks' Destination E rack with an included ramp. I've used both, and both are fantastic racks with built-in locks.
The following bikes are the best lightweight electric bikes on the market right now. They're easy to carry up stairs, load onto a rack, and they're just light and nimble while riding them, not to mention plenty of power-assist built in. It won't be as much power or have as much range as a heavier bike, and to make them lighter, some manufacturers use lightweight materials like carbon fiber or magnesium, which does add to the cost.
COMMUTERS AND TOURING BIKES
Aventon Soltera
For commuters, including college students, the Aventon Soltera is a very inexpensive lightweight electric bike. It has a 7-speed drivetrain, a 350W brushless rear hub motor, a 360Wh battery and integrated lighting. It's very simple, with thin tires, optional racks, a 20 mph top speed and a claimed range of 41 miles (claimed ranges are assuming ideal conditions, flat ground, eco mode with a 110 lb rider, so take these with a grain of salt).
It weighs in at a mere 41 lbs (most e-bikes start at around 50 lbs), has an aluminum frame that you can get in either a step-over or step-through frame design, and comes in regular (5'3"-5'10") and large (5'10" to 6'4") sizes. It can handle a total payload of 300 lbs (rider plus cargo).
It's available in Onyx Black or Citrine (yellow) and will set you back $1199, easily the least expensive on this list. 
VanMoof S5 and A5
If you want something less basic, more eye-catching, Vanmoof's designs are definitely worth a look. Born in Amsterdam, I see these zipping around Southern California all the time. The distinctive frame design with integrated lighting is easily recognizable.
The S5 and A5 models are very similar, save for size. The A5 fits riders from 5'1" to 6'5" and has 24" wheels. The S5 fits riders from 5'4" to 6'9" and has 27.5" wheels. The rule of thumb is that if you'd fit either, go for the larger wheels, as they're more forgiving in going over bumps and other imperfections in the road.
There's a ton of technology built into these bikes. They have a Halo Ring Interface instead of a traditional LCD or LED display. The VanMoof app tracks your ride, shows you current speed, trip meter, time, battery percentage and more, and you can charge your phone on the mount. It can lock the system when you press a button at the rear dropout, and it automatically unlocks when you're ready to ride. Apple Find My is supported, it's like a built-in Air Tag. It even has anti-theft nuts and bolts.
Both are Class 1 e-bikes, meaning they provide pedal-assist up to 20 mph. The 250W hub motor is powered by a 487Wh battery that they claim will go 37-93 miles, depending on power mode.
These are the heaviest on the list, at 49 lbs for the A5 and 50 lbs for the S5. You can get either bike in Dark Grey or Grey for $3998.
LeMond Prolog
If you've ever been involved in cycling of any sort, you probably know the name Greg LeMond. He is considered the greatest American cyclist, winning the Tour de France three times and the Road Race World Championship twice. In 1990, he started LeMond Bicycles to develop bikes for himself and to sell to the public. 
Fast-forward to 2021, when LeMond launched its first e-bike, the Prolog. They delivered one to me for review, and the first thing I noticed was just how light it felt when I first touched the grip. This bike is the lightest one on this list, at 26 lbs, 14oz. A carbon fiber frameset, and a Mahle X35+ 250W rear hub motor. There's a 245Wh battery that can be augmented by an external range extender battery.
You can get it in black, white or this stunning Rose finish in small (fits 5'2" to 5'10"), medium (fits 5'8" to 6'2") or large (fits 6'0" to 6'6"). At $5495, it ain't cheap, but trust me when I say this bike is worth it. You can opt for expensive extras like Shimano Di2 wireless shifting (+$800), carbon wheels (+$1800) and a host of other accessories.
FOLDING BIKES
GoCycle G4
The Gocycle G4i is simply the best-built folding e-bike on the market. Designed by Richard Thorpe, an avid cyclist that used to be an engineer for MacLaren. It shows, the bike is full of innovation. There's nary a wire to see, even the hydraulic brake cables are hidden inside the handlebar. The handlebar itself has a daytime running light they call a "light pipe" that runs across the front. 
The chain-driven drivetrain is fully enclosed to keep dirt out and grease off your pant leg. The hub motor is in the front wheel and is actuated by the built-in torque sensor for an extremely natural-feeling ride. The front hub is set for 500W in the U.S. and 250W in the E.U. It has built-in suspension, magnesium wheels, a carbon mid-frame, all of which help it weigh in at just 37.7 lbs.
The ride is like a dream. I'm a BMX guy, and I love bikes with 20" wheels. This bike has a ride quality like no other 20" bike I've ever ridden. Power is delivered naturally, it's a comfortable riding position even on long rides, it's planted when cornering.
The folding part is great, it becomes small enough to fit in the trunk or back seat of your car, the seat next to you on the train, or inside your RV or boat. The best part is that it won't get anything dirty sitting there, there's no exposed chain.
The G4i is available in black or white, and sells for $5499.
MOUNTAIN BIKES
A super-light full-suspension electric mountain bike is a very small but growing category. Some of these shave 10-12 lbs off the weight of the full-powered e-MTBs, sometimes at significant cost. They're aimed at the full-kit crowd that's very experienced and already fit and wants a bike that makes climbing the hills suck less. This likely won't be their only mountain bike.
Specialized Turbo Levo SL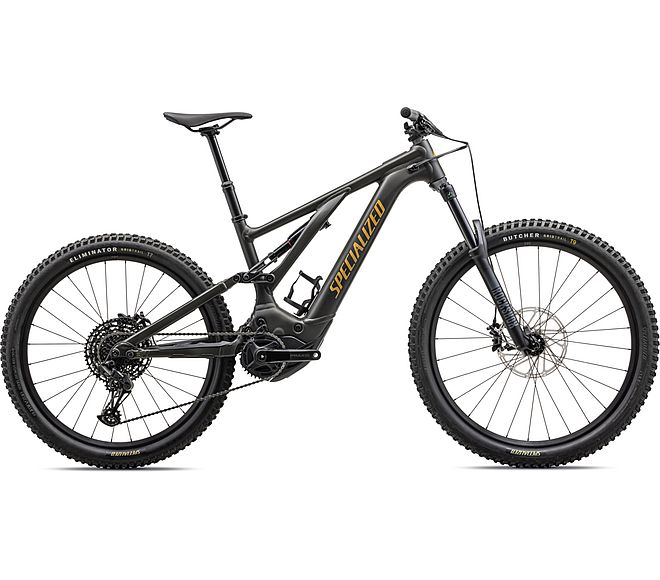 Specialized has a cult-like following. They make top-of-the-line bikes for serious cyclists. Their Turbo Levo line has been extremely popular for years. They jumped on the SL bandwagon a couple of years ago, and now they have an expansive range of bikes in the space. The original Levo had a Brose motor with no branding, the new SL versions feature a lightweight version of that motor, which they call the Specialized 1.1 or 1.2 SL Custom Rx Trail-tuned motor, depending on the spec/model. All the bikes have a small, lighter-weight 320Wh battery, with an optional 160Wh external battery option. 
Weight depends on spec, the SL Comp weighs in at 41lbs, 10oz, whereas the  S-Works Turbo Levo SL Carbon is a slightly lighter 39lbs, 13oz.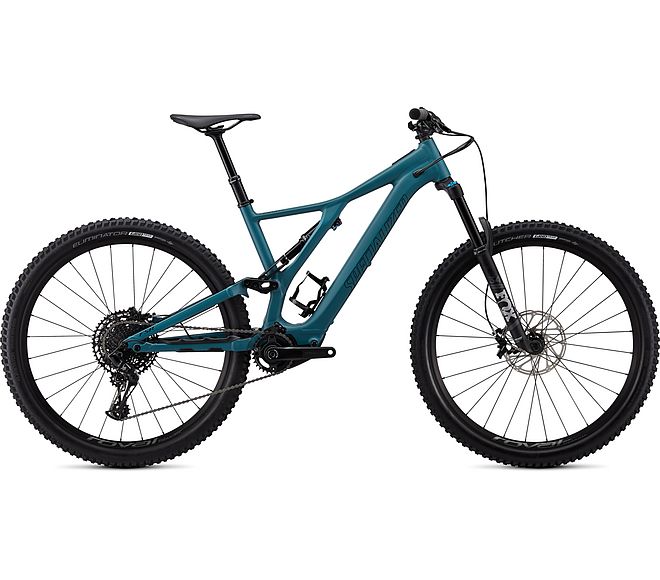 The Specialized Turbo Levo SL is available in a variety of configurations, with the lowest spec with an aluminum frame and good but not great components, the SL Comp, at $5249.99.  It comes with a SRAM NX Eagle drivetrain, Fox Performance suspension and alloy wheels.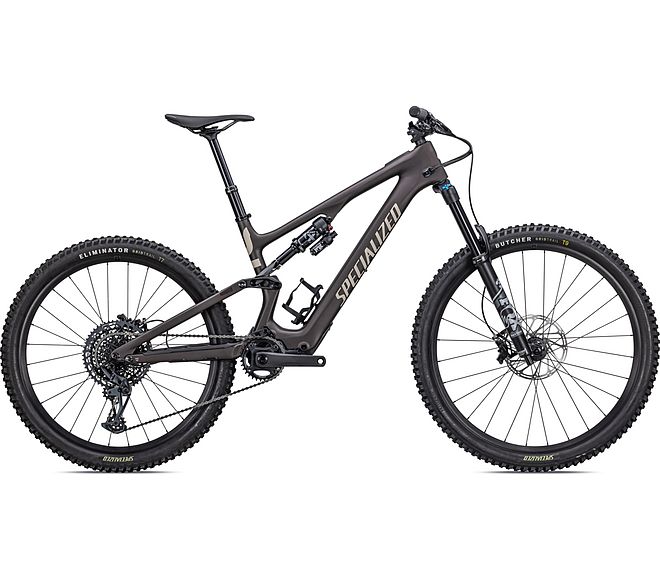 At the other end of the spectrum, the full-carbon-framed S-Works Turbo Levo SL Carbon comes with a SRAM XX Eagle drivetrain, Fox Factory suspension and carbon wheels comes in at a wallet-melting $14,000. There are many models in between. 
CARGO BIKES
There are no lightweight cargo electric bikes at the moment. If you want to haul around a lot of stuff, you're looking at a sturdy, but heavy frame and beefy components to match. These bikes are perfect if you need a cargo bike and rarely have to transport it or carry it up stairs (e.g, you can keep it in your garage).

FEATURE IMAGE: TONY DONALDSON
FTC: We use income-earning auto affiliate links. Learn more.